A Tutorial On How To Create A Website Using WordPress. Great Guide For Beginners. Get all the tips and tricks you need. Learn how to navigate, create websites, organize and much more. Anyone from beginners to experts can use this guide to answer any questions they may have. Computers and programs can be difficult. Make it simple with this tutorial.
The Ultimate Guide to Creating a Website With WordPress
You will gain a tremendous advantage over most WordPress users. Create your own website with ease.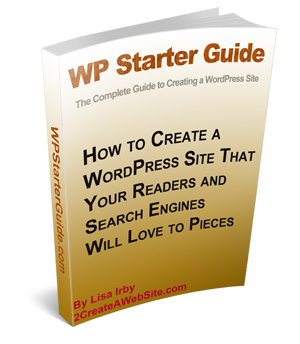 People are now using WordPress to create all kinds of websites.
Most WordPress sites are not really "news sites". The average user does not know how to effectively use the Menu function and static pages to create a website with a logical navigation and optimal content layout.
Not every WordPress site should be in a total blog format. WordPress is not just for blogs.
Many users fail to make effective use of static landing pages. Important content and visitors get lost in dated posts.
Traditional static website owners shy away from using WordPress. Content does not have to be organized in reverse chronological order.
Existing users struggle to make their menus link to the pages they want. The WP Starter Guide is the perfect starter guide for anyone new to WordPress. It will show you how to make the best use of the dynamic and static functionality.
This guide will make learning a breeze!
What Does The Guide Include?
– 125 pages (PDF) of up-to-date information on how to create a website. Great for beginners. (Instant download — requires Adobe Acrobat Reader to view)
– Tips on topic/keyword research, SEO (search engine optimization), promotion, plugins, making money, writing content, layout, security and customizing common elements of your blog(header, stylesheet, etc.)
– An entire chapter dedicated to layout. Make your site easier to navigate using static pages and potentially improve your site's search engine optimization
– Instructions for adding/floating social media icons in your header
– Discover how to easily add AdSense ads to your sidebar
– Lots of colorful screenshots for illustration and easy reading
– Help with using the Menu feature to create drop-down navigation menus in seconds
– Inside tips on what I've done with my newest WordPress site to improve the page views per visitor
WordPress is always being updated. I will keep the guide up-to-date to reflect major releases and send (email) you a copy.
Who is the WP Starter Guide For?
– People who want to learn how to use WordPress (for hosted sites, not the free WordPress.com version)
– Existing users struggling with layout, site navigation, and WordPress basics
I could have used this when I started my own website. I had no idea what i was doing. Lucky for you, this tutorial is here to help people like me.